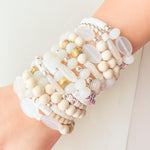 jasmine dunes stretchy bracelet making kit
need help making your stretchy bracelet stack? click here for a step-by-step tutorial on how to tie these bad boys off.

welcome to Jasmine Dunes
Close your eyes & picture a charming, sandy beach, complete with classic white architecture, lapping teal water, & a refreshing beverage. Our Jasmine Dunes kit makes it easy to reach this daydream any time...
Bright white & coconut polymer clay beads, creamy wood rounds, pearlized acrylic ovals, large faceted milk-glass colored crystals, natural magnesite stone rounds, shiny silver hematite, & bit of vintage brass effortlessly combine in endless possibilities. Inspired by the natural beaches of the lowcountry, we collected the creme de la creme of our inventory. With a variety of achromatic tones, textures, & size, we trust you will find Jasmine Dunes just as lovely as we do.
Our kits make a great project for all skill levels, including beginners; all you'll need is a pair of sharp scissors or cutters & some tape. Just like all of our stretchy bracelet kits, Jasmine Dunes is an exceptional value. You'll be able to make approximately 14 bracelets, or maybe more - depending on your wrist size. 
P.S. - you don't have to wear them all at once.
buy the jasmine dunes stretchy bracelet making kit here
materials included: this kit got a reboot for the 2022 season, so some items have changed.  
- 1 strand of Premium Copy Paper Polymer Clay
- 1 strand of Coconut Confetti Polymer Clay
- 1 strand of Beige Smooth Wood Rounds
- 1 strand of Pearlized Acrylic Rounds
- 1 strand of White Faceted Chinese Crystal Strand
- 1 strand of Cream Magnesite Rounds
- 1 strand of Silver Hematite Rounds
- 8 10mm Antique Brass Textured Open Rings
- 1 Super New Glue (for knots)
- 1 bundle of .7mm Stretch Magic (5 meters)
more resources
start here:
mad skills:
stretch magic + stretchy bracelets
actual projects:
magnesite flower + polymer stretchy bracelet
inspo, etc:
related products:
shop stretch magic
shop tools & adhesives
shop wood strands
shop all stone strands
shop all loose beads