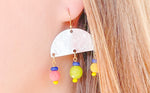 silver half circle drop earrings
bright lava, stone & crystal beads are a natural fit with these super shiny silver plated pewter half circles. gold wire accentuates both the silver & the colorful beads.
first thing's first - we had to come up with our design. we planned it out & gathered the necessary materials. for a full product list, including links, scroll down! 
we decided to create three separate drops using long headpins. we wire-wrapped the drops & attached them to the half circle with jump rings. 
for an in-depth wire-wrapping tutorial, click here.
for an in-depth tutorial all about jump rings, click here.
we attached the half circles to the ear wire by opening the ear wire with a pair of pliers & fed the ear wire through the half circle in the same direction you put it in your ear. the opening on the circle is too small for the shorter side of the ear wire with the ball to fit through.
once secured, we closed the ear wire back onto itself to prevent the half circle from moving around too much.
check out our dull-length headpin + wire heading tutorial below: