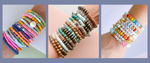 HOW WE CHOOSE THE COLORS FOR OUR KITS
Our kits are truly a creative collaboration. 
We begin with a source of inspiration, like camping under the stars, 80s glam,  ocean waves, or a word full of meaning.  Sometimes the inspiration is simply the colors that have been playing favorites to our team members.  
Once bead strands and charms are gathered, everything gets spread out on the table, and the creation takes shape.  We edit, add, and play around with possibilities.  One strand may wiggle it's way out, while a different texture or color leads the kit in a new direction. 
Once we have a bundle with a distinct personality, we brainstorm the perfect name, and a new kit is born.  Sometimes, the name comes quickly, sometimes there are pages of ideas.  Maybe the kit reminds of a destination, or a strong woman we know.  Maybe the kit derives a special feeling.  It's a team effort, and a lot of fun.  
You can find all our bracelet kits online.  Pick one that inspires you and start creating.