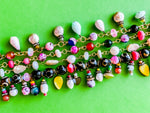 How to Layer for the Holidays
especially around the holidays, more is MORE!!! now is the time to layer on the jewels.  you can dress up a simple black tee with an extra necklace or too and be cocktail party ready!  we believe that jewelry style is one of the best ways to amp up your wardrobe. 
whether you start with your shortest layer, or your longest, here are some helpful tips:
one with dangles, or charms. this will be sure to add movement to your neckmess
one wire wrapped, or chain linked necklace.  this thin out your layers and add texture
one strung on beading wire.  this will add a draped feeling to your neckmess
most importantly, have fun!  the rules are that there aren't any rules, so pile them on and wear them with confidence.  
also, when making your own necklaces, it helps to have extenders, especially for layering options.  
shopping list for Black Agate Charm Necklace:
6mm Rhinestone Crystal Rondelles
24 Gauge Antique Brass Headpin
10mm Chartreuse Mother of Pearl