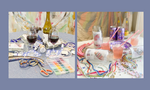 how to host the perfect bead party
Your mind is made up, you are hosting your first bead party.  Here are our best tips for a perfect crafty pow wow! 
First, decide WHO will join you!  Is it a Mom's Night Out?  A Bachelorette Party Activity? A Young Beaders' Birthday? 
Second, decide WHERE you will host your soiree.  We recommend having a large table with room for everyone.  Or it could be a smaller "station" at a large party.  Your dining room or kitchen island would be perfect, or a more casual coffee table vibe.  
WHEN is totally up to you!  A bead party could last for a couple of hours, or it could be a 20 minute side project.  You can make your project fit your needs.  Jewelry making is fun anytime of day.  Morning, noon or night! 
WHAT not this is where we come in!  Our Bracelet Making Kits are a great jumping off point.  Each jar comes with everything you need to make at least 12 bracelets.  all you need at home is a pair of scissors and scotch tape.  If you are getting a kit with letters, it is a good idea to add an extra pack of letters if you are expecting more than 6 participants.  
We also offer a variety of Necklace Making Kits and Bead Boxes.  For the bead boxes, you will want to add on the Necklace Making Must Haves.  If you are crimping your necklaces or bracelets, you may need to add on a Three Piece Plier Set  or an Essential Jewelry Designer's Tool Kit. 
BITES anything goes here, but we are fond of anything resembling beads!  Fruit or Capresé salad kabobs are fun and easy to eat while stringing your new creations.  
DECOR fresh flowers and cute cocktail napkins are the perfect finsihing touches!  are you going full on rainbow? or more monochrome?  Are guests more boho chic or disco diva?