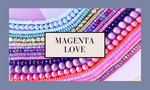 for the love of beads. a mix of bubbly brights and pops of turquoises with hearts of all sizes and materials.  we have the collection's project shown below.  check our the entire collection, here. 
 This collection gives a nod to the 2023 Pantone color of the year, Viva Magenta. 
"In this age of technology, we look to draw inspiration from nature and what is real. PANTONE 18-1750 Viva Magenta descends from the red family, and is inspired by the red of cochineal, one of the most precious dyes belonging to the natural dye family as well as one of the strongest and brightest the world has known.
Rooted in the primordial, PANTONE 18-1750 Viva Magenta reconnects us to original matter. Invoking the forces of nature, PANTONE 18-1750 Viva Magenta galvanizes our spirit, helping us to build our inner strength." -Leatrice Eiseman
Shades of Fuchsia Necklace
Create this fun colorful collar with alternating 8mm rondelle colors.  Punctuate you sections with 8mm bass disc and coordinating pearls. Basic crimping is all you need for this cheery number.  
Shopping List:
5mm Mulberry Freshwater Pearl Strand
15mm Shiny Gold Lobster Clasps
Berry Happy Wire Wrapped Necklace 
These mixed rounds are even more harmonious with intertwined gold wire loops.  Once you start wire wrapping, it is hard to stop.  It is a favorite technique amongst our team. 
Shopping List:
19mm Brushed Gold Lobster Clasps
Enamel Box Chain Duo
Use wire wrapped sections to lengthen the bright box chain.  We know this collection is all about pink, but we also carry this fun chain in aqua, neon yellow and white! 
Shopping List:
3mm Neon Pink Coated Enamel Box Chain
6mm Translucent Boysenberry Crystal
4mm Iridescent Eggplant Crystal