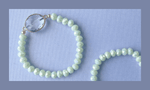 using crimp covers on stretch
once you've got your stretchy bracelet basics down, take them to the next level by using crimp covers to hide your knots.
it's true - even the most skilled stretchy bracelet makers end up with unsightly knots every now and then. and yes, you can always use a large holed bead to cover your knot, but your design may not always call for such.
for step-by-step on tying off your stretchy bracelets, check out our mad skills page. for a video tutorial on how to add crimp covers to your bracelets, click here, or the image below.
for the featured project here, we just made two stretchy bracelets. one the "normal" way, and another where each end of the stretch magic was tied off to one end of a connector. in both bracelets, anywhere a knot was made is where a crimp cover was applied.
products used:
8mm frosted mint faceted chinese crystal strand
4mm gold filled crimp covers
1mm stretch magic
crimping plier
designer wire cutter