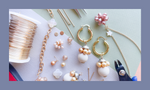 how to create a sputnik charm
Today we're going to make our pearl sputnik charms.
Basic Sputnik Design
First, we'll make a basic Sputnik Charm using 4mm Sand Freshwater Rice Pearls and
2" 24 Gauge Gold Plated Headpins
. You can use any bead for this technique, but keep in mind you may need to adjust the size and length of your headpins for larger beads. To make the charm, gather your headpins and beads, and go ahead and "string" each pearl on a headpin. We'll use seven pearls for this design. 
Next, wire-wrap each pearl bead to create a bail or loop at the top of the bead. Essentially, you are using the headpin to make each individual bead it's own charm. Hold unbent the pearl/headpin and place your Round Nose Pliers on the headpin, a few millimeters from the top of your bead. Bend the headpin out and away from you, and then back towards you, using the pliers to make a rounded loop. 
Once you have a small loop, use another set of pliers or your hands to wrap the unused portion of the headpin around the gap between your loop and the top of the bead. Create this wrap 2-3 times, or more for a more decorative look, and then snip off the excess wire, or you can wait to snip Repeat this process as many times as you like. The more beads you have, the larger/more full your final Sputnik will be. 
After you have created several of these wire-wrapped pearls or beads, string one more bead on an unbent headpin, and then string up the already wrapped pearls on this final headpin. After the wire-wrapped beads are layered up, stack one final pearl on top of the almost complete charm, and wire-wrap the top of the headpin just as you did on the previous pearls. 
Add this charm to whatever you like! Full a fuller, "blossom" look, like the pink charm in the featured necklace, add more pearls go your design.
Large Gold Hoop Earrings Sputnik Variation
These could be created on any hoop earring style, just keep in mind what variations may be needed to keep things comfortable for the wearer. We're using our 25mm Shiny Gold Hoop Earring Pair, which you can shop here. Because these hoops are fairly thick, we'll need an 8mm Jump Ring to easily fit around the hoops for our charms to dangle from. 
For this variation, we're using a thicker headpin, 2" 20 Gauge Brushed Gold. Larger wood beads, like the 16mm White Wood Round used in this design have holes that a headpin alone will slide right through, so we're placing a 6mm Brushed Brass Heishi bead at the base of our headpin to prevent this. Next, string along your large wood bead. 
For the modified Sputnik look, assemble several wire-wrapped beads just as you did for the basic design. Scroll up for detailed instruction on that! Instead of stringing the looped beads on a headpin with the same bead as the wire-wrappings you've created, string them on top of the large wood round. We used a 7mm Round Pearl this time, and it took five of them to comfortably cover the 16mm wood round in a way we liked. 
We then used a Handmade Silver Saucer bead, which helps to nicely hold the wire-wrapped beads in place. Finish off the headpin with a single wire-wrap loop, and you're ready to go! We added an 8mm Shiny Gold Open Jump Ring to easily fit over the hoop we're using. 
For the silver huggie pair shown in the video, combine the above two processes. We used our 5mm Rose Freshwater Rice Pearls in combination with 24G Distressed Silver Headpins to create a classic sputnik, added an 8mm Distressed Silver Jump Ring, and paired the creation with our 12mm Shiny Silver Huggie Pair. 
Wire-Wrapped Chain Necklace Sputnik Variation
For this technique, we're using segments of our 8mm Brushed Gold Cable Chain with our 14mm White Mother of Pearl Quatrefoils and sputniks made with 8mm Matte Peach Faceted Chinese Crystal Rondelles. The only difference between a chain-linked sputnik and the original charm design of a sputnik is the use of craft wire!

 

In order to create the sputnik in a way that it can link from both ends, cut a segment of craft wire (we used 22 Gauge Gold Non-Tarnish Craft Wire, available here), and create a loop at the end of one side of the wire. String on your first bead, followed by several wire-wrapped beads. Once you are happy with your cluster, string a final bead onto the craft wire, and create a final wire-wrapped loop. 

 

To avoid using a jump ring to connect the chain and the sputnik, string the not-yet-wrapped wire segment through a link in the chain, and create the loop around this chain. 

 

 

 

Comprehensive Material List:

25mm Shiny Gold Hoop Earring Pair

12mm Shiny Silver Huggie Earring Pair

24G Shiny Gold Plated Headpins

20G Brushed Gold Plated Headpins

8mm Matte Peach Faceted Chinese Crystal Rondelle Strand

4mm Sand Freshwater Rice Pearl Strand

5mm Rose Freshwater Rice Pearl Strand

7mm Trophy Freshwater Round Pearl Strand

8mm Shiny Gold Open Jump Rings

8mm Distressed Silver Open Jump Rings

14mm Faceted White Mother of Pearl Quatrefoils

22G Non-Tarnish Gold Craft Wire