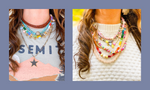 HOW WE STYLE NECKLACES FOR A LAYERED LOOK
When it comes to layering, anything and everything can be fashionable. 
Whatever you love, do it.
Some ways to play…
GO FOR A THEME.
Layer colors that pop, or a mono-chromatic look with beads and chain. Different textures and techniques can make your styles pop.        
Combine colors that remind you of a sunset or ode to your favorite sports team. While solid tops are a blank canvas for layering it up, do not be afraid to add patterns and little ditties.  
SIZE MATTERS.
You can layer based on length and/or size.  Mixing some chunky beads, with a strand of wood, or a thin chain for variation.  Necklaces can stack on-top of each other or stand apart with different lengths. 
PUT ON A SHOW. 
Make one of your favorite necklaces or charms the "star," with supporting bead or chain necklaces.  Layer some of your favorite necklaces as a celebration of what sparks you joy. 

As you can see, the only rule is there are none.