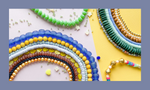 Spring 22: Indigo Sunshine
Bright, and not backing down. Indigo Sunshine combines the glory of warm hazy days with just the right amount of cool girl careless-ness. Filled with natural materials and intense hues, this collection is sure to inspire your inner beader. Get your hands on all the splendid-ness by clicking here.
Indigo Sunshine doesn't stop there, check out the projects below for step-by-step instructions on how to create your very own daisy chain and faux-knotted neckmess.