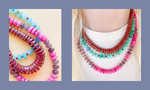 DIY Jewelry Making Tutorial: How to Create Faux-Knotted Beaded Necklaces
All the luxury, a fraction of the time. We're no strangers to creating knotted necklaces, but this trick allows you to create the same effect much more quickly, with less supplies, and more flexibility. Follow along below with three simple steps. As always, happy beading!
WHAT DO I NEED TO MAKE MY OWN FAUX-KNOTTED NECKLACE?
2mm beads of your choice, we recommend

chinese crystal

or

hematite

(see below for specifics used in above pieces)
8mm beads of your choice, we recommend

stone strands

 or other rondelle/heishi cut beads (see below for specifics used in above pieces)
for the teal necklace:
for the jasper necklace:
for the pink + purple
 

necklace:
STEP-BY-STEP INSTRUCTIONS FOR MAKING A FAUX-KNOTTED NECKLACE 
STEP 1: CUT YOUR BEADALON
These necklaces can be as long or as short as you like! The necklaces shown above range from 16-19 inches, but for each necklace we cut approximately 20-25" segments of Beadalon. This gives us plenty of room for crimping off and/or switching up the design. Simply use your wire cutters to snip the Beadalon where you would like, and remember that having extra is always better! 
STEP 2: STRING YOUR BEADS
You can always add in a more detailed pattern, but the premise for this design will virtually always be an ABAB pattern: one small bead, one large bead. You'll likely want your design to start and end with a smaller bead, easing the transition from design to clasp.
In the teal necklace, we threw in one blue roller bead for a low-contrast pop. In the pink + purple necklace, we switch between using each color in random amounts, but always adhere to the 1:1 small bead large bead ratio.
STEP 3: CRIMP
Choose one side to crimp off first. Secure the opposite end of the necklace with scotch tape if it is not already secured. String on a 2mm Crimp, followed by a Clasp (we used our 12mm Brushed Gold Lobster Claw Clasp). Loop the beadalon wire through the bail on the clasp and back through the crimp.
Hold the clasp ring in your non-dominant hand, and pull the tail of the beadalon (through the crimp and several beads) to tighten and adjust. The clasp should have a little wiggle room, but overall feel very secure. Next, use your crimping plier to flatten the crimp bead on the beadalon. Once secured, use your wire cutters to snip off the excess beadalon cord (where it sticks out of your strung beads).
At this point, prepare your chain extender by cutting the chain to size. We used about 3" of chain, but the length can be adjusted depending on your preference. We're using a soldered (closed) chain, so we don't need to add a jump ring at the point of attachment.
After you cut your chain, you'll repeat the process, but creating a secure loop becomes a little more tense since the first side of your necklace is already secure. For this side, you'll only need a crimp and your chain.
For a quick reminder on how to crimp, check out the video below. For an in-depth tutorial, complete with step-by-step pictures, check out our Crimping on Beadalon LEARN page here.
interested in "real" knotting? (silk knotting):
check out our step-by-step pictures + video tutorial by clicking here or the image below!
This project is part of our Indigo Sunshine collection. Indigo Sunshine combines the glory of warm hazy days with just the right amount of cool girl careless-ness. Filled with natural materials and intense hues, this collection is sure to inspire your inner beader. Get your hands on all the splendid-ness by clicking here.
Check out all of our DIY beaded jewelry projects from beadalon necklaces to  stretchy bracelets, wire-wrapped earrings to silk knotted semiprecious stone, tips and tricks, and more, on beadsinc.com, our Instagram @beadsinccharlotte and our YouTube channel.