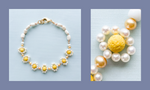 Jewelry Making Tutorial: DIY Beaded Daisy Necklace with Knotted Waxen Linen
Inspired by our latest collection, Indigo Sunshine, this carefree + joy-filled shortie features a unique combination of natural materials sure to bring light to the wearer. See supplies, step-by-step pics, and more, below. As always, happy beading!
WHAT DO I NEED TO MAKE MY OWN DAISY + WAXED LINEN NECKLACE?
STEP-BY-STEP INSTRUCTIONS FOR MAKING A BEADED DAISY CHAIN + WAXED LINEN NECKLACE 
STEP 1: MAKE YOUR "DAISY CHAIN"
For this necklace, we'll be creating both a beadalon segment and two waxed linen segments. As shown this necklace is only about 17" and only 9" is on beadalon, but we will be "doubling up" the wire to create the daises. We cut about a 25" segment of Beadalon wire, giving us plenty of room for crimping and switching up the design. Simply use your wire cutters to snip the Beadalon where you would like, and remember that having extra is always better! 
Starting with a piece of scotch tape a few inches from one end of your beadalon, string on a 7mm Trophy Pearl, one 6mm White Pearl, and one 10mm Mustard Lava Round. Follow the mustard bead with four 6mm White Pearls. Here's where things get crazy: thread the tail of the beadalon (the non-taped side) through the mustard bead, starting on the side closest to the taped edge. Pull it tight, and you'll see the first half of your daisy form!
Next, string four more 6mm White Pearls, and repeat the process above, lining up this side opposite of the side that is already in place. Pull tight and string an additional pearl on the beadalon. You've got a daisy!
Continue with a Trophy Pearl, and repeat the whole process. We created a total of 7 daisies on our necklace, but you could add more for length by creating even more daisies (or add more waxed linen later). This technique could also be done with smaller beads, on stretch, or on silk! 
STEP 2: CRIMP + CONNECT
Once you have the desired number of daisies, string a roller bead on either end if you choose. We did a single white bead on either side. 
Next, you'll string on a crimp bead and a segment of french wire, approximately 0.5" long. String the beadalon back through the crimp and crimp off as normal. Repeat on the other side. For help, check out the video below.
PRO TIP: After crimping both sides, we added crimp covers to our crimps, as well as two crimp covers placed in the design of the necklace, to help cut out slack. If you like the look of these additional beads, you could always add gold hematite into your design. 
STEP 3: WAXED LINEN
In order to connect the back of the necklace to the "daisy chain," we'll knot waxed linen as we go. Starting with one side, take approximately two feet of waxed linen, folded in half to create two 1ft long strands (connected at the base). String the loop through your french wire, and string the two ends of the waxed linen through the loop, creating a point of attachment. Create an overhand knot to fully secure the waxed linen to the beadalon segment. 
Next, string a bone chiclet through both waxed linen ends/strands. Make an overhand knot how you created the previous one. Repeat as many times as you like. We strung four chiclets on each side, but you can add more for more length. 
Once you have your desired length, loop the waxed linen through one of your 12mm Heavy Duty Brushed Gold and make a secure double knot. Snip off excess; secure with Super New Glue if desired. Open jump ring and slide on the clasp.
Repeat with a jump ring on the other side. Add multiple jump rings if desired to increase length. Make sure to fully close each jump ring!
This project is part of our Indigo Sunshine collection. Indigo Sunshine combines the glory of warm hazy days with just the right amount of cool girl careless-ness. Filled with natural materials and intense hues, this collection is sure to inspire your inner beader. Get your hands on all the splendid-ness by
clicking here
.
Check out all of our DIY beaded jewelry projects from beadalon necklaces to  stretchy bracelets, wire-wrapped earrings to silk knotted semiprecious stone, tips and tricks, and more, on beadsinc.com, our Instagram @beadsinccharlotte and our YouTube channel.