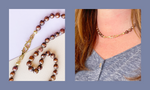 DIY Jewelry Making Tutorial: Silk Knotting + French Wire
silk knotting can be intimidated, but it's nothing you can't handle! most often used to give semiprecious stone strands some extra love, silk knotted necklaces are a great way to practice your jewelry making skills. for this piece, we took a strand of our chocolate brown faceted pearls, which are a uniquely textured freshwater pearl strand, and used light brown silk thread to knot between the beads. we finished off the necklace with french wire, a gold hematite bead, and a swivel clasp on either end. for an in-depth video tutorial on silk knotting and adding french wire to silk knotted necklaces, keep scrolling!
WHAT DO I NEED TO MAKE MY OWN SILK KNOTTED CHOCOLATE PEARL NECKLACE?
as always, these necklaces are meant for your inspiration! you are welcome to model your own necklace after what we have made, or create within the same palette. if you do make your own version, we'd love to see! tag us on instagram @beadsinccharlotte. happy beading!