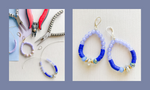 Jewelry Making Tutorial: Beaded Wire Hoop Earrings
Beaded wire hoop earrings are the perfect colorful, lightweight, and customizable accessory! From the colors and textures of the beads, to the shape of the hoop, to your chosen ear wires, you can make these simple earrings fit any look you want.
WHAT DO I NEED TO MAKE MY OWN BEADED PERIWINKLE TEAR DROP HOOPS?
to make the periwinkle earrings:
6mm Indigo Polymer Clay Heishi

6mm Hydrangea Glass Rounds

8mm Two-Tone Periwinkle Faceted Chinese Crystal Rondelles

Silver Brass Saucers

6mm Brushed Gold Brass Heishi

20G Non-Tarnish Silver Craft Wire

1 pair of

Sterling Lever Back Ear Wires

Flat Nose Plier

Round Nose Plier
to make the lavender earrings:
6mm Lavender Polymer Clay Heishi

4mm Gold Plated Hematite Rounds

8mm Faceted Chinese Crystal Rondelles 

20G Non-Tarnish Gold Craft Wire

1 pair of 

Gold Fill Lever Back Ear Wires

Flat Nose Plier

Round Nose Plier
STEP-BY-STEP INSTRUCTIONS FOR MAKING A BEADED HOOP LEVER BACK EARRING 
STEP 1: CUT YOUR WIRE
Our Non-Tarnish craft wires comes on spools of approximately 15-30 yards, depending on size. We recommend cutting about 8-12 inches of wire per earring, to ensure you have plenty of room to create your design exactly as you'd like. 
STEP 2: STRING YOUR BEADS / DESIGN
Polymer and small crystal or glass are a great base for this type of earring, but feel free to experiment with sizes and materials! Because you have an open piece of wire, you can string from either end of it, making it easy to choose a "centerpiece" bead and then stringing on either side of it.
You can also lay out or plan your pattern before you get started - there's no wrong way to do this as long as you love it! 
STEP 3: CLOSE THE HOOP
Once you have your design strung, it's time to secure the wire and give the earring it's shape. 

 
STEP 4: ATTACH THE EAR WIRE
Once the wire is securely wrapped, snip off the excess. 
Finally, it's time to open up your ear wire and add it to the loop. To do this, use your flat nose pliers to gently pry open the connecting point of your ear wires and loop them through your wire-wrapped loop. 
Close the ear wire connection exactly how you opened it, and et voila! Repeat the process and enjoy as many beaded wire hoops as you can stand. 
BONUS: You can easily manipulate the shape of your hoops, either to be more teardrop shaped or more fully rounded. Just squeeze and pull with your hands to create your perfect look.
to see our Very Peri collection, 
click here
, or the image below.