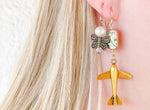 gold airplanes + abalone earrings
put your wire-wrapping skills to good use for these stand-out earrings. the reflective abalone surface pairs so well with our distressed gold planes. it's like these two were a match made in heaven.
to create this pair, or any earrings in this style, you'll need wire, a bead of your choice, & a charm or small pendant. we'll be "candy wrapper"-ing the abalone for these earrings, meaning creating loops with wire on either side. this is the same technique used in our labradorite + stick pearl necklace, as well as many other tutorials. this time though, instead of connecting this bead to other beads on either side, we'll be connecting one side to the plane charm & the other side to the ear wire.
cut a length of wire that is approximately 3-5 inches. an inch or so away from one of the ends of the wire, use round or needle nose pliers to create a small loop. use your pliers to hold the loop in place & use your fingers to twist the tail end of the wire around the longer side of it. do not just twist the wire together - this will create a long, weak connection as opposed to a small sturdy connection that comes from wrapping one piece of wire around the other.
snip the remaining short wire tail. slide your bead onto the wire.
repeat the first loop onto the side where the long wire tail is. hold the loop in place & use your fingers to twist the wire around itself just like the first side.
then snip the wire just like you did on the other side. we used a crimper to make sure the wire-wrapping was snug & would not pull on any skin or clothing it may come in contact with.
open & add a jump ring, followed by your charm or pendant. if you wanted to make a pair of earrings similar to these but without a charm, you can use a headpin to create a charm out of any bead. 
close the jump ring. attach your ear wire by opening the loop with a pair of pliers. slide on your wire-wrapped bead & close the loop on the ear wire.
you're finished! now repeat for the other earring.
products used:
35mm gold pewter airplane charms
related projects:
bronze butterfly + pearl earrings (coming soon)
orchid + yogurt shortie necklace
more resources:  
mad skills: working with jump rings
related products:
shop all loose beads, charms, & pendants