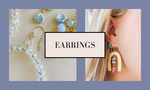 symmetrical or asymmetrical, baubly ear bits are always a crowd pleaser. if you're looking to practice your wire-wrapping skills, or create something in a flash, earrings are right up your alley.
on our website, we only sell dangling earring components, but if you are interested in studs or flat back earrings feel free to reach out to us! most earrings utilize similar skills, but below we have listed out a few different types of earrings with coordinating examples of each style.
click on any of the images below to find more information and an in-depth tutorial on how to create your own pair of earrings in the same style.
using headpins & wire to create earrings is perhaps the most typical way jewelry makers begin. it is a fairly easy technique that just gets better with practice. plus, wire-wrapping (link to wire-wrapping how-to page) is a skill applicable to tons of other kinds of projects! this method of attachment is what we use on just about any earring with a dangle or drop, including our huggie charms!
huggies
huggies are simple, tiny hoops that "hug" your earlobes. while precious on their own, it's probably no surprise that we can't resist dressing them up. making charms for your huggies is simple, quick, & can be as subtle or intense as you like.
make your own huggies earring charms
tassels
our tassel fan earrings tutorial is one of our most watched YouTube videos of all time! This technique is super simple, all you need are thin metal discs, tassels of your choice, & a method of connection to your desired ear wires. 
make your own tassel fan earrings
you might recognize a familiar technique at play here, wire-wrapping pops up more than you would think! we've sold out of these brass horseshoes several times, but we always find a way to get them back. get 'em while you can!
make your own horseshoe earrings
looking for specific techniques? check out the in-depth tips & tricks on our mad skills page.
looking for a specific piece of jewelry? check out our archive of originals & information on how to make them yourself on our actual projects page.
looking for the latest trends, our favs, or new collections? check out the edits on our inspo, etc. page.