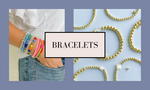 bracelets are a great place for beginning beaders to start, especially stretchy bracelets. if you're here because you received one of our stretchy bracelet kits, click stretchy bracelets to find more info about our kits & how to use stretch magic. 
click on an image below to learn more, find tutorials, and get inspired.
types of bracelets
stretchy bracelets
an overwhelmingly popular choice for jewelry designers of all ages, stretchy bracelets have won our hearts, & are likely to win yours. aside from specific projects featuring stretchy bracelets, we also carry stretchy bracelet kits that include several full strands of beads, usually a few special loose beads, stretch magic, & super new glue - enough materials to make up to 15 bracelets! 
featured: the providence stretchy bracelet making kit
chain bracelets
these bracelets are typically finished by adding jump rings & a clasp of your choice, but segments of chain can also be great additions to bracelets made with beadalon or leather.
knotted bracelets
as simple as it sounds - these babies are created by knotting stringing material in between beads. you can use waxed linen, leather cord, or beading silk thread.
waxed linen african glass knotted bracelet
wire-wrapping
this technique uses non-tarnish wire to create links between individual beads, giving the piece a more chain-like effect. this technique can be done on every single bead in a necklace, or just to accent certain beads.
beadalon bracelets
just like necklaces made with beadalon, these bracelets will require crimps & a clasp, which can elevate your bracelets for a more elegant look. we carry multiple sizes of beadalon stringing cord, but most often recommend the 0.018 size.
looking for specific techniques? check out the in-depth tips & tricks on our mad skills page.
looking for a specific piece of jewelry? check out our archive of originals & information on how to make them yourself on our actual projects page.
looking for the latest trends, our favs, or new collections? check out the edits on our inspo, etc. page.