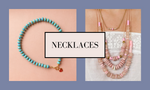 necklaces are an excellent way to express yourself. show off your favorite colors, stones, or funky combination that represents you. what's great about making your own jewelry is that you can make literally whatever you want - so don't feel like what we're showing you is the end all be all. we just want to share the proper techniques to get you on your way to creating!
there are tons of different types of necklaces, but what you will find here are the main types based on materials used, & links to create each different kind. for more specific pieces, visit our projects page under the learn tab on the above menu.
types of necklaces 
beadalon: this is typically the go-to material for most necklaces that are traditionally strung. we carry multiple sizes of beadalon stringing cord, but most often recommend the 0.018 size. with beadalon, you will be crimping your necklace to attach a clasp.
chain: these necklaces are typically finished by adding jump rings & a clasp of your choice, but segments of chain can also be great additions to other types of necklaces.
leather & suede: necklaces that utilize leather or suede components are usually not entire leather or suede, unless of course they are knotted leather cord. we typically use suede as an alternative necklace back that adds style & comfort.
wire-wrapping: this technique uses non-tarnish wire to create links between individual beads, giving the piece a more chain-like effect. this technique can be done on every single bead in a necklace, or just to accent certain beads.