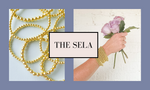 the sela diy stretchy bracelet making kit
By pairing our best selling 4mm & 6mm shiny gold plated hematite, we created a simple, glamorous, and feminine DIY bracelet making kit. Each Sela Kit comes with enough beads for 14 or more bracelets. We're all about luxury product, but we're also of the belief that luxury looks should be attainable for all, which is exactly why we made The Sela. 
Each kit includes 4 strands of 4mm Shiny Gold Hematite Rounds, 3 strands of 6mm Shiny Gold Hematite Rounds, 1 5m spool of 0.7mm Stretch Magic Bracelet Cord, and 1 bottle of Super New Glue. Each kit also comes with a thank you card linking the recipient to a tutorial for how to create stretchy bracelets. 
While stunning on it's own, this kit is a great baseline for designing your own, original jewelry. Shop our selections of loose beads, charms, and strands to find add ins that are just your style.