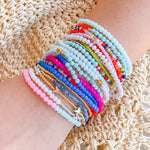 the bb stretchy bracelet making kit
oh baby, this bb has it all.
The first of it's kind, this kit boasts itsy bitsy crystals in bright & complementary colors, paired with both gold AND silver hematite & pewter accent beads. Plus, you might have noticed, there are more strands than in our previous kits included in the bb - 12 to be exact. Yep. 
Electric orange crystal cubes, tiny lime green crystal rondelles, bright & soft shades of both pink & blue crystal rondelles, a multicolor crystal strand just in case we missed your fav color with our other choices, as well as those two teeny hematite rounds strands, and the butterflies & hearts. All of these strands are full size by the way, when we say teeny tiny we just mean the individual beads!
Our kits make a great project for all skill levels, including beginners; all you'll need is a pair of sharp scissors or cutters & some tape. Just like all of our stretchy bracelet kits, the bb kit is an exceptional value. You'll be able to make approximately 30 bracelets, or maybe more - depending on your wrist size. 
P.S. - you don't have to wear them all at once.


get the bb stretchy bracelet making kit here.
materials included:
- 12 6mm Silver Pewter Butterfly Beads
- 12 6mm Gold Pewter Heart Beads
- 1 strand of 4mm Turquoise Howlite Rounds
- 1 strand of 4mm Petunia Faceted Chinese Crystal Rondelles
- 1 strand of 4mm Cream Faceted Chinese Crystal Rondelles
- 1 strand of 4mm Hot Pink Faceted Chinese Crystal Rondelles
- 1 strand of 4mm Mist Faceted Chinese Crystal Rondelles
- 1 strand of 4mm Prussian Blue Faceted Chinese Crystal Rondelles
- 1 strand of 3mm Bright Orange Crystal Cubes
- 1 strand of 3mm Multicolor Faceted Chinese Crystal Rondelles
- 1 strand of 2mm Chartreuse Faceted Chinese Crystal Rondelles
- 1 strand of 2mm Silver Hematite Rounds
- 1 strand of 2mm Gold Hematite Rounds
- 1 strand of 6mm Silver Hematite Rounds
- 1 Super New Glue (for knots)
- 1 spool of 0.5mm Stretch Magic (5 meters)
more resources
start here:
mad skills:
stretch magic + stretchy bracelets
actual projects:
magnesite flower + polymer stretchy bracelet
inspo, etc: