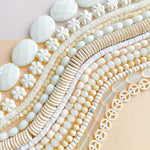 in the midst of our spring-time neons & pastels we felt it appropriate to have a collection of our lightest, brightest white strands. 
perfect for a monochromatic look, these white strands nicely pair with both gold & silver metal strands, as well as being mixed in with our spring break or lavender feels collections.
white not only looks chic, clean, & crisp, the color symbolizes spring in a unique way - representing a new start, a rebirth, or purity. we chose some of our favorite white strands to make the choice easy for you. shop our curated collection featuring stone, bone, crystal, wood, & polymer below.
shop the collection here: white hot 
projects featuring products from this collection:
magnesite flower + mixed metals wire-wrapped necklace
magensite flower + polymer stretchy bracelet
check out our other edits for more inspo: