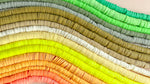 all about polymer clay strands
polymer clay strands are consistently one of our most popular products, especially in the spring & summer months. because of this, we wanted to show off the wide array of colors we currently carry, including side-by-side images of strands in the same color family. hopefully this will help ensure that you get exactly what you are looking for!
size guide:
our polymer clay strands are available in 2mm, 4mm, 6mm, 8mm, & sometimes 10mm! however, not every color is available in each size. our most common sizes of polymer strands are the 6mm & 8mm strands.
products featured from top to bottom:
10mm multicolor star polymer clay strand
8mm safety vest polymer clay strand
6mm grapefruit polymer clay strand
4mm peach polymer clay strand
2mm carrot polymer clay strand
color guide:
white to warm neutrals
products featured from top to bottom:
6mm premium copy paper polymer clay strand
8mm premium copy paper polymer clay strand
6mm coconut confetti polymer clay strand
8mm coconut confetti polymer clay strand
8mm in the buff polymer clay strand
6mm puddin' polymer clay strand
8mm mocha polymer clay strand
6mm mocha polymer clay strand
6mm dove polymer clay strand
warm neutrals to hot pinks
products featured from top to bottom:
8mm moleskine polymer clay strand
6mm moleskine polymer clay strand
6mm in the buff polymer clay strand
6mm cake walk polymer clay strand
6mm bubblegum polymer clay strand
6mm pickled egg polymer clay strand
6mm flamingo polymer clay strand
4mm electric pink polymer clay strand
8mm electric pink polymer clay strand
6mm electric pink polymer clay strand
8mm aunt nancy's nail polish polymer clay strand
hot pinks to purples
products featured from top to bottom:
4mm electric pink polymer clay strand
8mm electric pink polymer clay strand
6mm electric pink polymer clay strand
8mm aunt nancy's nail polish polymer clay strand
6mm royalish purple polymer clay strand
8mm thistle polymer clay strand
6mm wisteria polymer clay strand
8mm yogurt polymer clay strand
6mm yogurt polymer clay strand
6mm lavender polymer clay strand
6mm grape polymer clay strand
all purple strands
products featured from top to bottom:
6mm royalish purple polymer clay strand
8mm thistle polymer clay strand
6mm wisteria polymer clay strand
8mm yogurt polymer clay strand
6mm yogurt polymer clay strand
6mm lavender polymer clay strand
6mm grape polymer clay strand
purples to blues
products featured from top to bottom:
6mm royalish purple polymer clay strand
8mm thistle polymer clay strand
6mm wisteria polymer clay strand
8mm yogurt polymer clay strand
6mm yogurt polymer clay strand
6mm lavender polymer clay strand
6mm grape polymer clay strand
6mm navy blue polymer clay strand
8mm navy blue polymer clay strand
8mm blue pantsuit polymer clay strand
6mm blue pantsuit polymer clay strand
6mm stadium blue polymer clay strand
4mm provincial periwinkle polymer clay strand 
6mm provincial periwinkle polymer clay strand
8mm provincial periwinkle polymer clay strand
all blue strands
products featured from left to right:
8mm blue pantsuit polymer clay strand
6mm blue pantsuit polymer clay strand
4mm provincial periwinkle polymer clay strand
6mm provincial periwinkle polymer clay strand
8mm provincial periwinkle polymer clay strand
6mm stadium blue polymer clay strand
6mm pool blue polymer clay strand
8mm pool blue polymer clay strand
8mm half moon blue polymer clay strand
6mm half moon blue polymer clay strand
4mm half moon blue polymer clay strand
6mm calypso polymer clay strand
8mm calypso polymer clay strand
6mm peacock polymer clay strand
aquas to greens
featured products from top to bottom:
4mm half moon blue polymer clay strand
6mm calypso polymer clay strand
8mm calypso polymer clay strand
6mm peacock polymer clay strand
6mm yard of the month polymer clay strand
8mm neon green polymer clay strand
6mm neon green polymer clay strand
6mm fern green polymer clay strand
6mm sage green polymer clay strand
2mm sage green polymer clay strand
6mm dill pickle polymer clay strand
8mm dill pickle polymer clay strand
6mm biscotti polymer clay strand 
greens to yellows
featured products from top to bottom:
6mm yard of the month polymer clay strand
8mm neon green polymer clay strand
6mm neon green polymer clay strand
6mm fern green polymer clay strand
6mm sage green polymer clay strand
2mm sage green polymer clay strand
6mm dill pickle polymer clay strand
8mm dill pickle polymer clay strand
6mm biscotti polymer clay strand 
6mm lemon gelato polymer clay strand
8mm banana split polymer clay strand
6mm highlighter polymer clay strand
8mm highlighter polymer clay strand
yellows to reds
products featured from top to bottom:
8mm banana split polymer clay strand
6mm highlighter polymer clay strand
8mm highlighter polymer clay strand
6mm cheese dust polymer clay strand
6mm neon apricot polymer clay strand
8mm safety vest polymer clay strand
6mm red tail light polymer clay strand
8mm terracotta polymer clay strand
2mm carrot polymer clay strand
reddish browns to whites
featured products from top to bottom:
8mm terracotta polymer clay strand
2mm carrot polymer clay strand
6mm puddin' polymer clay strand
8mm mocha polymer clay strand
6mm mocha polymer clay strand
6mm dove polymer clay strand
8mm in the buff polymer clay strand
8mm coconut confetti polymer clay strand
6mm coconut confetti polymer clay strand
6mm premium copy paper polymer clay strand
8mm premium copy paper polymer clay strand
all colorful neutrals
8mm yogurt polymer clay strand
6mm yogurt polymer clay strand
6mm cake walk polymer clay strand
4mm peach polymer clay strand
6mm moleksine polymer clay strand
8mm moleskine polymer clay strand
6mm mocha polymer clay strand
8mm mocha polymer clay strand
8mm in the buff polymer clay strand
6mm lemon gelato polymer clay strand
6mm biscotti polymer clay strand
6mm dill pickle polymer clay strand
8mm dill pickle polymer clay strand
whites to blacks
featured products from top to bottom:
6mm premium copy paper polymer clay strand
8mm premium copy paper polymer clay strand
6mm gray sweatpants polymer clay strand
8mm gray sweatpants polymer clay strand
8mm asphalt polymer clay strand
6mm asphalt polymer clay strand
8mm black polymer clay strand
all multicolor strands
featured strands from top to bottom:
8mm coconut confetti polymer clay strand
6mm coconut confetti polymer clay strand
6mm rainbow taffy polymer clay strand
4mm paradise crush polymer clay strand
6mm pamplemousse polymer clay strand
6mm oceania polymer clay strand
6mm kitchen sink polymer clay strand
8mm kitchen sink polymer clay strand
6mm confetti polymer clay strand
8mm confetti polymer clay strand
8mm jubilee polymer clay strand
8mm waterlily polymer clay strand
6mm waterlily polymer clay strand
4mm rainforest polymer clay strand
6mm rhythm polymer clay strand
8mm rhythm polymer clay strand
8mm domino polymer clay strand
6mm domino polymer clay strand
all colorful multicolor strands
products featured from left to right:
6mm rainbow taffy polymer clay strand
4mm paradise crush polymer clay strand
6mm pamplemousse polymer clay strand
6mm oceania polymer clay strand
6mm kitchen sink polymer clay strand
8mm kitchen sink polymer clay strand
6mm confetti polymer clay strand
8mm confetti polymer clay strand
8mm jubilee polymer clay strand
8mm waterlily polymer clay strand
6mm waterlily polymer clay strand
4mm rainforest polymer clay strand
all special shape strands
products featured from top to bottom:
10mm multicolor evil eye polymer clay strand
10mm multicolor mixed fruit polymer clay strand
10mm multicolor star polymer clay strand
all neon strands
products featured from top to bottom:
4mm electric pink polymer clay strand
8mm electric pink polymer clay strand
8mm safety vest polymer clay strand
8mm highlighter polymer clay strand
6mm neon green polymer clay strand
8mm neon green polymer clay strand
check out our other inspo, etc:
*posting March 2021, colors may change slightly due to differences in dye lots/no longer be available later in the year, plus we may add more colors at another point in time*