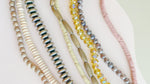 tans, sage greens, browns, grays, creams, & soft pinks mix together to create an array of soft earthy tones in this collection of strands.
for us, neutrals aren't just gray or brown, we're taking into consideration our warm, muted tones, material, & texture of the strands. the goal was to create an inviting collection, ready to pair with any pre-existing piece. we hope you enjoy these complementary colors & textures just as much as we do.
while the sage green & tones of muted pink hint at springtime, this collection is by no means a seasonal exclusive. these colors are meant to last you through the year.