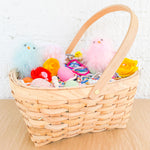 for us, soft brights & luxurious pastels go hand in hand with the Easter holiday. while shooting this collection, we had a blast making baskets filled with beads, candy, flowers, & some truly amazing decor.
check out this curated selection to find a mix of colorful stretchy bracelet kits, small metal strands, polymer & crystal, plus a bit of wood & stone. 
if you're looking for more neons, see our spring break edit. if you want all the pastel purples, see our lavender feels collection (both linked below). 
check out our other edits for more inspo:  
related collections: