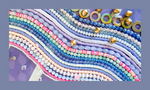 Veri Peri: Pantone's Color of the Year 2022
When we saw Pantone's pick for the color of the year, our jaws dropped. A color so close to our Beads, Inc. blue, and so full of possibility. 
if you visit Pantone's site (check it out here), the first thing you'll read about Veri Peri is as follows: "Displaying a carefree confidence and a daring curiosity that animates our creative spirit, inquisitive and intriguing PANTONE 17-3938 Very Peri helps us to embrace this altered landscape of possibilities, opening us up to a new vision as we rewrite our lives. Rekindling gratitude for some of the qualities that blue represents complemented by a new perspective that resonates today, PANTONE 17-3938 Very Peri places the future ahead in a new light." 
If you're unfamiliar, Pantone is a brand of specific color standards, meaning that they create and trademark colors, both in print and digitally. Since 1999, they have chosen a "color of the year" for the upcoming year, based on trend forecasts in fashion, home, and digital media, which would go on to hugely influence the color climate in that year. 
Last year, we created a collection of beads and findings based on their colors of the year, and we continued to see the influence show up in your orders throughout the year. Check out the 2021 Colors of the Year Collection here. 
This year, we've done the same. Shop our 2022 Pantone Color of the Year collection here, and find colorful inspiration for your newest pieces.
We hope to embody Pantone's Veri Peri "spritely, joyous attitude and dynamic presence that encourages courageous creativity and imaginative expression" all year long, through our beads, custom handmade jewelry, and customer service experience. 
check out the projects inspired by Very Peri below: