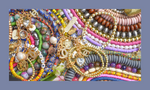 FW21: The Gratitude Collection
As the world keeps spinning around us, there's one thing that grounds us: our gratitude. Jewelry making is an exquisite practice; one that puts art into play by being physically worn and expressed, unique from one person to the next. As a small business, we find this to be doubly true. We are so lucky to have not only made it through, but continued to grow, as we navigated the past year and a half. If you're here, thank you. We wouldn't be here without you. Cheers to the rest of 2021, and may 2022 bring nothing but love. 
By focusing on handmade beads, we were able to assemble a collection full of texture and color unlike any other. Filled to the brim with sandcast African glass,  Krobo trade beads, faceted stone and naturally unique pearls, The Gratitude Collection is sure to make you feel inspired and at home.
In fact, we were so inspired that we created several projects to go along with this gorgeous selection of material. Click on an image below to learn more about each project,
or click here to shop the collection.
Beads, Inc. is proud to be your source of all things jewelry supply and inspiration, from DIY beaded jewelry necessities like strands and tools, to project supply lists and step by step tutorials, beadsinc.com has you covered. Check out our "learn" menu option to find tutorials organized by skill, project, collection, and inspiration. Or, shop our DIY jewelry making kits, perfect for beading beginners or jewelry making professionals. As always, happy beading!