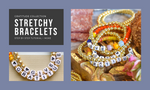 Gratitude Stretchy Bracelet Stack
this stack is simple, serving as a reminder to embrace gratitude, giving, and love, especially around the holiday season. 
WHAT SUPPLIES DO I NEED?
4mm Gold Hematite Rounds Strand
6mm Gold Hematite Rounds Strand
6mm Black Letter Acrylic Cube Bead Pack
8mm Multicolor Roller Bead Pack
6mm Electric Orange Cut Chinese Crystal Rounds Strand
Designer Wire Cutters (or scissors)
Scotch Tape
add in some bracelets from the Sela Kit for a fully furnished look.
STEP 1: create your design
using your acrylic letter beads, pull out the letters needed for love, give, gratitude, or any words of your choice. our black letter bead pack comes with heart beads, so we added some of those as well! 
to prevent the square beads from pulling apart and exposing the stretch magic cord, we used 4mm Gold Hematite Rounds as spacer beads. this gives each bracelet a more sophisticated look. 
we made our "give" bracelet with 6mm Gold Hematite Rounds, our "gratitude" bracelet with 8mm Yellow Kakamba Rondelles, and our "love" bracelet with both 8mm Multicolor Roller Beads + 6mm Electric Orange Faceted Crystal Rounds.  
our standard bracelet size is approximately 7.5 inches, but adjust as needed for you or the recipient of your creations!
STEP 2: string your beads
cut about a foot of 1mm Stretch Magic Stringing Cord, and apply scotch tape to one side, about 2 inches from the end.
start, or end, your design with a larger holed bead (in this case, letter beads) for an easy way to hide the knot when you finish off the bracelet! since letter beads are square, we used smaller, round beads between letter beads, which gives the overall bracelet a smoother flow and look! we used 4mm Hematite Rounds in between 6mm Black Letter Acrylic Cube Beads to achieve this look. 
string your bracelets, and remember to check the length against a ruler or your wrist to ensure the perfect size!
STEP 3: tie off your bracelets
this step may be the most intimidating for new beaders, but you can do it! 
holding each end of your stretchy cord, gently pull the ends in opposite directions (like you're playing an accordion) several times. think of this as "warming up" the stretch so it is ready for it's job of being stretchy. this step will take the slack out of your finished bracelet, increasing it's strength for wear and tear. 
slide the tape off of the cord if you haven't already, and make an overhand knot with the two ends of the stretch, pulling them apart to create the knot very close to your beads. this makes more sense with pictures (below). 
make 1-2 more knots, depending on your stretch, beads, bracelet, and how you feel. then, use a dab of super new glue to secure the knot, cut off the excess stretch cord, and you're done! 
for an in-depth walkthrough of making stretch bracelets, check out the video below:
shop the gratitude collection here: The Gratitude Collection.