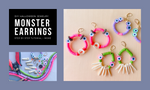 Jewelry Making Tutorial: How to Create Halloween Monster Earrings
Follow along to learn how to make these super cute DIY monster/goblin earrings! 
What do I need to make my own hoop earrings?
Polymer Clay Heishi Strands of your choice
Ear wires
Non-Tarnish Craft Wire
Loose/other beads
Round Nose Pliers
Designer Wire Cutters
STEP-BY-STEP INSTRUCTIONS FOR MAKING BEADED GOBLIN HOOP EARRINGS
STEP 1: MEASURE AND CUT YOUR WIRE
To start, measure two segments of 20 Gauge Non-Tarnish Gold Craft Wire, about one foot each. You can use a thinner gauge wire, but thicker wire will hold it's shape better! You won't need an entire foot to make these earrings, but having more than enough material, while still a manageable amount, is important.
Make a bend with your Round Nose Pliers on one end of each segment, about one inch from the chosen end. We'll string our beads up to this "end point," which ensures we'll have a comfortable amount of wire to work with for finishing off the earrings. Stringing the earrings like a necklace, in a flat position, also helps to ensure the designs are symmetrical.
STEP 2: STRING YOUR BEADS / DESIGN
After your wire is prepared, string on your design. Since the goal of these earrings are making a design recognizable as a spooky or scary face, we'll have to consider what the final design will look like, and realize it won't look quite right while flat stringing it. 
For our three example designs, we used 6mm Polymer Clay Heishi Beads as a colorful base, as well as our 10mm Evil Eye Polymer Clay Coin Beads for the monster eyes, 25mm White Wood Spikes for teeth, 14mm Brown Wood Rondelles and 8mm Silver Pewter Beans for angry eyebrows, 15mm Mother of Pearl Circles with red tube seed beads 
for a mouth, along will 8mm Wood Rondelles, 4mm Gold Hematite for a completed look.
Not sure how this should look? Check out our examples of our unfinished goblins below:
STEP 3: MAKE YOUR SECOND EARRING TO MATCH THE FIRST
To ensure a symmetrical design, lay the first earring flat while making the second one. You can also count the number of polymer beads to achieve this. You also don't have to make them symmetrical if you don't want to!
Specifically for the pink pair, because the original design isn't symmetrical, we're going to make a mirrored design. To achieve this, lay your first pink earring down, and flip it over. Another way to achieve this is to string the design exactly the same as the original, but "flipping" one of the designs when you go to attach it to your ear wire.
STEP 4: ROUND OUT YOUR DESIGN
This is the part where you create the hoop. Take one of your fully strung wire segments and pinch the two ends together where the wire exposed at the end of the segments. This is where you one inch bend from earlier comes in handy!
Firmly grip one of the ends of the wire while wrapping the other wire around it like a twist tie. Twist the wire at least three times to secure your design. Your earring will naturally take a rounded shape during this process, but once the twist is secure, adjust as needed for your desired look.
Next, snip off one of the leftover bits of wire. Often it works best to snip off the remainder of the segment you were using to wrap, not the base segment that was being wrapped around.   
STEP 5: CREATE A LOOP
Before you create the loop at the top of your earring, which is how you will attach it to an ear wire, be sure that your design is secured, and you have snipped off one of the extra wire segments, leaving only one wire to manipulate. 
To create the loop, take your Round Nose Pliers and place them a few millimeters above the end of your twist. Holding the design by the pliers out in front of you in one hand, use your other hand to bend the wire (around the pliers) from pointing straight up to the sky, to pointing down at the ground, and then toward you. You do not need to move the hand holding the pliers or the pliers during this process. Wrapping around your Round Nose Pliers is a great way to easily create an even loop.
To secure the loop, keep your hand and pliers in place, and use your other hand to twist the unused wire in the space between your loop and the twist that completed your hoop design. We recommend twisting three times for a secure loop. This process is almost identical to the twisting you did in the previous step.
Remove your earring from the pliers, and snip off the excess wire. You may want to use your pliers to "tuck in" the wire to avoid any snags later on. 
STEP 6: ATTACH EAR WIRES
For our designs, we used gold filled lever back ear wires, but you could use gold plated or sterling lever backs, or gold or silver french ear wires. 
Whatever you choose, use your Round Nose Pliers to open the ear wire at the base, where you will connect your design. You can add a jump ring here if you choose, but we tend to directly attach our designs to an ear wire. 
Once you've opened the ear wire, slide the loop of your design onto the open connection area, and use your pliers to gently close the connection point of the ear wire back up. Simply repeat for your matching earring or other designs!
full supply list
12mm Gold Fill Lever Back Ear Wire Pack
20 Gauge Non-Tarnish Gold Craft Wire
4mm In The Buff Polymer Clay Heishi Strand
4mm Flamingo Polymer Clay Heishi Strand
6mm Electric Pink Polymer Clay Heishi Strand
6mm Basil Polymer Clay Heishi Strand
6mm Wisteria Polymer Clay Heishi Strand
8mm Red Tail Light Polymer Clay Heishi Strand
10mm Multicolor Evil Eye Polymer Clay Strand
8mm Wicker Wood Rondelle Strand
4mm Gold Hematite Rounds Strand
8mm Silver Pewter Bean Beads Pack
14mm White Striped Brown Bone Rondelle Pack
15mm Mother of Pearl Circle Pack
1.5mm Bugle + Seed Bead Carnival Pack