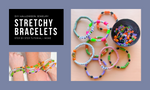 Jewelry Making Tutorial: How to Create DIY Halloween Themed Stretchy Bracelets
Stretchy bracelets are super easy to make, comfortable to wear, and easy to take on and off. Stretch bracelets are great for stacking or wearing alone, and can fit a variety of wrist sizes. Scroll to Step 5 for an-depth video!
WHAT DO I NEED TO MAKE MY OWN STRETCHY BRACELETS?
Stretch Magic Stringing Cord
Super New Glue
Sharp scissors or Designer Wire Cutters
Beads of your choice
Scotch tape
Ruler or tape measure
Bead board or work surface
STEP-BY-STEP INSTRUCTIONS FOR MAKING STRETCHY BRACELETS 
STEP 1: CUT YOUR STRETCHY CORD
On average, bracelets for adults need to be about 7-8" long. Chunkier beads take up more space, so the length of the design may need to be longer if using larger beads. If someone is petite, they may need a bracelet smaller than 7 inches, and some people are more comfortable with bracelets 9 inches long. 
Even though your bracelet will be around 7-8 inches once created, you'll want to cut about a 12 inch segment of stretchy cord. Having room on both sides of your design makes tying the bracelet off much easier!
Use a piece of tape to mark off a stopping point for your design, about 2" from one of the ends of your stretch magic. 
STEP 2: STRING YOUR BEADS / DESIGN
If using a bead board, create your design to fit within the 7" mark of the necklace placement or follow the 7" bracelet design space. If not, you can design your bracelet on any flat surface, and use a ruler to double check your length! 
String your design onto your stretchy cord, keeping in mind that if you are using small beads, the knot may be visible. If your design features larger beads or beads with larger holes, try to string the design in a way that these beads are on either end of your stretchy cord, providing an easy hiding place for your knot! 
Because we are using .7mm Stretch Magic Stretchy Stringing Cord, we were able to hide the knots in our 6mm Polymer Clay Heishi Beads. It is possible to do this with 1mm Stretch Cord, but I would recommend hiding the knot in a larger bead instead of trying to hide it in the polymer. 
For a supply list of the beads we used, keep scrolling!
STEP 3: TIE OFF YOUR BRACELET
Once your design has been strung, all that's left to do is secure your bracelet. Taking either end of the stretch magic in each hand, begin making a knot the same way you would tie your shoelaces, pulling the cord tight in each direction. Proceed with a solid double knot, triple if you prefer. 
The bracelet should be somewhat taught, but not so tight that you fear popping it! Below is a quick video tutorial for how to tie off your bracelets. For a full length video with audio instruction, keep scrolling.
STEP 4: SECURE WITH GLUE
Use your Super New Glue to place a small dab of glue on your knot, and be sure to pull your knot away from the beads if possible. The goal is to avoid getting glue on anything except the knot. You'll get better with practice! 
STEP 5: CUT OFF THE EXCESS STRETCHY CORD
After your glue is no longer tacky, pull the knot away from the beads again and use sharp scissors or cutters to snip off the two tail ends of your stretchy cord. 
Carefully slide your larger bead over the knot if applicable, and your knot is hidden! 
HALLOWEEN STRETCHY BRACELET SUPPLY LIST:
6mm Domino Polymer Clay Heishi Strand
6mm Wisteria Polymer Clay Heishi Strand
6mm Basil Polymer Clay Heishi Strand
6mm Carrot Polymer Clay Heishi Strand
8mm Electric Pink Polymer Clay Heishi Strand
8mm Neon Green Polymer Clay Heishi Strand
8mm Multicolor Glass Roller Bead Pack (we only used the orange ones)
4mm Gold Hematite Rounds Strand
6mm Brushed Gold Saucer Strand
6mm Black Letter Acrylic Cube Bead Pack
Assorted Skull Beads (out of stock)