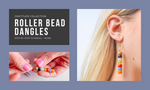 Jewelry Making Tutorial: Festive Roller Bead Drop Earrings
Colorful, bold, and bright, this earring dangles like true ear candy. Customize with your own colors, or follow our guide, and either way you're sure to have the perfect pop to go with your favorite fuzzy sweater. 
WHAT DO I NEED TO MAKE MY OWN EARRINGS?
Roller Beads
Decorative Soldered Rings
Heishi Beads
Headpins
Ear Wires
Flat Nose Plier
Round Nose Plier
Wire Cutter
STEP-BY-STEP INSTRUCTIONS FOR MAKING THESE DROP EARRINGS
STEP 1: GATHER YOUR MATERIALS
First, you'll want to get the needed tools and supplies to create these earrings. We used two 12mm Gold Twist Soldered Jump Rings, two 2" 20G Brushed Gold Headpins, 2 6mm Brushed Brass Heishi Discs, fourteen 8mm Glass Roller Beads, and two 20mm Gold Filled French Earring Hooks. For tools, we used a Flat Nose Plier, a Round Nose Plier, and our Designer Wire Cutters. 
STEP 2: "STRING" YOUR DESIGN
Starting with one of your headpins, string on a Brushed Brass Heishi Disc, followed by your selection of seven Roller Beads. We went in this order: orange, baby blue, cherry red, lime green, opal, forest green, and lastly, camel. 
STEP 3: MAKE A LOOP
Creating a loop at the top of each headpin is how we will connect the headpin to the twisted ring that connects to our ear wire. Seasoned beaders may recognize this is wire-wrapping, and that is correct! Once you have this skill down, you can use it to create wire wrapped beads for earrings, charms, necklaces, and even making your own beaded chain. 


To create the loop, use your Round Nose Pliers and grasp the headpin, approximately a couple millimeters above the top roller bead. Use your other hand to bend the wire toward you, under the plier nose, and then away from you. This creates a basic, open ended loop.
Before closing the loop, slide the Twisted Jump Ring into the loop.

Next, use your Round Nose Pliers to hold the entire loop. Use the hand that is not holding the pliers to hold the remaining end of wire and the roller beads on the headpin. Keeping a firm grasp on the pliers, use the hand holding the bulk of the earring to twist. Make two to three twists with the headpin, around itself, and you will have a completed loop. Snip the excess, and you're ready for the next step!
STEP 4: ATTACH THE EAR WIRE
Get your ear wire, we're using simple French Earring Hooks, and gently pry open the small, unsoldered, "bail" at the base of the ear hook with your Round Nose Pliers. Open up this area, similar to jump rings, just enough to get the twisted ring into place. Slide the twisted ring on, and then use the very end of your Round Nose Pliers to close the opening and secure your ear wire and earring.
Repeat the process for the second earring, and you're done! We'd love to see what you make. Feel free to share with us on Instagram, @beadsinccharlotte.
Until next time, happy beading! 
ELEGANT EARRING SUPPLY LIST:
8mm Multicolor Glass Roller Bead Pack
6mm Brushed Brass Heishi Disc Strand
12mm Twisted Gold Soldered Ring Pack
2" 24G Gold Plated Headpin Pack
20mm Gold Filled French Earring Hook Pack
shop the gratitude collection here: The Gratitude Collection.
Love this tutorial? We have tons of DIY jewelry making projects on our learn page. With step by step images of how to wire wrap, knot, string, tie, crimp, and more, plus project inspiration ideas, gorgeous, trendy, and seasonal collections, diy stretchy bracelet making kits that make great gifts, instant charm paperclip chain and enamel pendant necklaces, and more.