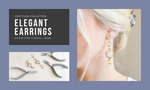 Jewelry Making Tutorial: How to Make Elegant Earrings Out of Jump Rings + Connectors
These earrings provide a lovely, low-key elegance to any outfit. Perfect for the holiday season, you'll wonder how you ever didn't have a pair. 
WHAT DO I NEED TO MAKE MY OWN EARRINGS?
Heavy Duty Jump Rings
A Connector
Ear Wires
2 pairs of Flat Nose Pliers
1 pair of Round Nose Pliers
STEP-BY-STEP INSTRUCTIONS FOR MAKING THESE SIMPLE EARRINGS
STEP 1: GATHER YOUR MATERIALS
First, you'll want to get the needed tools and supplies to create these earrings. We used eight 12mm Shiny Gold Heavy Duty Jump Rings, two 20mm Triangular Crystal Connectors, and two 20mm Gold Filled French Earring Hooks. For tools, we used two Flat Nose Pliers, and a Round Nose Plier.
In a pinch, you could probably get away with just a Flat Nose Plier and a Round Nose Plier, but having two Flat Nose Pliers makes manipulating Jump Rings much easier. Some people prefer to use Crimping Pliers as well. 
STEP 2: OPEN YOUR JUMP RINGS
Hold a jump ring with one of your Flat Nose Pliers. Using the other plier, grip onto the opposing side of the jump ring. You don't need to be right by the opening of the jump ring, but about half way down. Think of it this way - let the jump ring's opening point straight up, and let that be "north." Have a plier connected to where "west" would be and where "east" would be.
Then, you will both pull and push. Pull one set of pliers towards you, and push one away from you. DO NOT pull the pliers further in their "west/east" directions, as this will weaken the jump ring. 
For the first jump ring, you'll just need to perfect the closure. For the second jump ring, you'll want to open it up, and attach it to both the first jump ring and the bottom of your connector. We had our triangular connector point down, so we attached this second jump ring to the smaller, "point" side. 
STEP 3: ATTACH THE CONNECTOR
Connecting your connector is easy - keep the second and third jump rings open, and slide them onto the connector's two bails. Once the connector is "strung" onto the jump ring, close just as you opened them. Some times it takes a bit of finessing to make the ends match up perfectly, but the more you do it, the better you'll get! 

STEP 4: ATTACH THE EAR WIRE
Finally, it's time for the Round Nose Pliers. Get your ear wire, we're using simple French Earring Hooks, and gently pry open the small, unsoldered, "bail" at the base of the ear hook. Open up this area, similar to the jump rings, just enough to get the jump ring into place. Slide the jump ring on, and then use the very end of your Round Nose Pliers to close the opening and secure your ear wire and earring.
Repeat the process for the second earring, and you're done! We'd love to see what you make. Feel free to share with us on Instagram, @beadsinccharlotte.
Until next time, happy beading! 
ELEGANT EARRING SUPPLY LIST:
12mm Shiny Gold Heavy Duty Jump Ring Pack
20mm Triangular Crystal Connector Pack
20mm Gold Filled French Earring Hook Pack
Flat Nose or Chain Nose Pliers
shop the gratitude collection here: The Gratitude Collection.