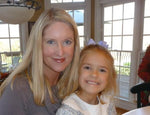 Sandi is Ashton's mom. Ashton is one of our youngest employees, working mainly behind the scenes, packing orders, taking calls, & listing products, but if you're lucky you may get to see her downstairs making sales. this summer we will be sending Ashton off to college, & we are so proud! but not as proud as her mom, who will be seeing off Ashton's two siblings as well. that's right - Sandi is the mother of triplets. Ashton describes her momma as unbelievably kind, cheerful, sophisticated, & smart.
for Sandi, we stuck with some classic girly picks, including pinks & teals, tons of silver accents, pearls, + more. we wanted to highlight Sandi's personal style, as well as what we think represents what we know about her. view Sandi's Collection here.
for each mom, we created a project inspired by their collection. Sandi's project is a sweet but sophisticated multi-strand necklace featuring soft pink & blue crystal with silver chain. view Sandi's necklace here. 
MORE RESOURCES
start here:
mad skills:
crimping + working with beadalon
actual projects:
inspo, etc:
mother's day
related products:
essential jewelry designer's kit