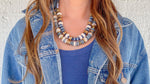 the sturdy, reliable reputation of denim, whether as jeans or jackets, aligns itself nicely with the look of white stone, vintage brass & bronze, and brushed gold. throw in some polymer, wood, & tons of muted blues, and you've got our denim collection.
this necklace stack takes the best of each type of bead included in the denim collection & turns them into a pair of complementary necklaces. 
these necklaces feature slightly different clasps, lengths, & beads, and could be worn alone or together. at the lengths we made them (21" & 23"), they sit perfectly when worn together. need help with crimping your own beadalon necklace? see our mad skills page for help, or keep scrolling for more resources below!
as always, you're more than welcome to use this stack as a source of inspiration, a starting place, or as a step-by-step guide. to achieve this exact stack, string the materials listed below on your beadalon as just as the necklaces show. for a similar look, mix up the patterns from our stack, or add your own personal touch with extra strands or even a pop of color!
products used:
8mm indigo dyed jade rondelles
15mm slate fruit loop sandcast glass rondelles
6mm premium copy paper polymer clay discs
12mm gold brass handmade saucers
19mm brushed gold lobster claw clasp
12mm heavy duty brushed gold open jump ring
8mm brushed gold open jump ring
22mm shiny gold swivel lobster claw clasp