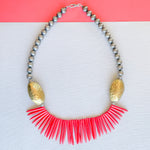 this necklace is sure to catch the eye of any appreciator of bold statements. inspired by Joan's Collection of our Mother's Day Edit, this piece proudly displays bright red magnesite spikes amidst dimpled brass hollow ovoids & smooth, shiny, silver gray resin rounds. 
need some guidance when it comes to crimping & finish off necklaces? check out our mad skills: crimping on beadalon wire.
for this necklace, we started by cutting a very long piece of beadalon, and started stringing the spikes first. then we created the design, strung one side, removed tape from the opposing side, & strung it to match. then, we carefully crimped our clasp & jump ring on either end of our beadalon, tucking the extra wire back into the beads.
as always, you're more than welcome to use this stack as a source of inspiration, a starting place, or as a step-by-step guide. to achieve this exact stack, string the materials listed below on your beadalon as just as the necklaces show. for a similar look, mix up the patterns from our stack, or add your own personal touch with extra strands or even a pop of color!
products used:
6mm diamond cut gray faceted chinese crystal rondelles
58mm hollow tibetan brass walnut beads
12mm metallic silver navajo resin rounds
22mm distressed silver swivel lobster claw clasp
8mm distressed silver soldered jump ring