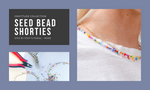 Jewelry Making Tutorial: Seed Bead Shorties
Colorful, sweet, festive, and fun, this little neck mess is the perfect touch to a plain white tee. New to necklace-making? No worries. Follow along to find the supplies, tools, and techniques needed to create your very own necklace.
WHAT DO I NEED TO MAKE MY OWN NECKLACES?
24G Headpins
1 pack of Seed Beads + Bugles
2 Lobster Claw Clasps
2ft of Small Soldered Chain
Beadalon Stringing Wire
Crimp Tubes
Several Jump Rings
1 Crimping Plier
2 pairs of Flat Nose Pliers
1 pair of Round Nose Pliers
STEP-BY-STEP INSTRUCTIONS FOR MAKING THESE SIMPLE EARRINGS
STEP 1: GATHER YOUR MATERIALS
First, you'll want to get the needed tools and supplies to create this pair of shorties. We made one necklace with Beadalon, and the other by adding some dangling bugle charms to a small chain. We used a mix of a few different packs of seed beads we had lying around, but any one of our seed bead packs should do the trick. Just pick your favorite one to make your look! If you need help with creating a Beadalon necklace, watch the video below or check out this step by step tutorial: Learn to Crimp on Beadalon Wire.
STEP 2: PLAN YOUR DESIGNS
Since we made two different necklaces, we used two different processes. For the necklace strung on Beadalon, we selected each bead as went along, choosing bright happy colors and different sizes of seed beads. Refer to the above video for help with stringing and finishing off a regular beaded necklace.
For the chain necklace, we pulled one of each color of our bugle seed beads, and arranged them in an order we liked. For help with attaching these seed bead danglies to your chain, keep scrolling.
STEP 3: WIRE-WRAP SEED BEADS
To create the loop that attaches to the chain, first string a single bugle bead on a headpin. Then, use your Round Nose Pliers and grasp the headpin, approximately a couple millimeters above the top of the bead. Use your other hand to bend the wire toward you, under the plier nose, and then away from you. This creates a basic, open ended loop. 
At this point, we can weave the loop through/around our chain links on the necklace, which we will do. We put a seed bead approximately every 5 chain links. 
shop the gratitude collection here: The Gratitude Collection.