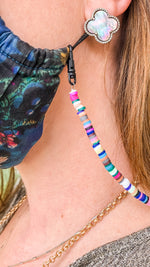 techniques used for necklaces can generally be applied to creating mask chains, but we wanted to make sure we had all of our bases covered. below you can find information about a few different types of mask chains & how to create each of them. scroll down to find even more information & extra inspiration.
check out our mad skills page for techniques like:
mask chain with chain: mask chains made from chain are an extremely simple & practical way to jazz up your look. generally, all you need are jump rings, clasps, & the chain of your choice.
mask chain with beadalon: this type of mask chain is strung just as it would be if the piece were a necklace - involving beadalon, crimps, clasps, & all of the choice stringing material.
looking for specific techniques? check out the in-depth tips & tricks on our mad skills page.
looking for a specific piece of jewelry? check out our archive of originals & information on how to make them yourself on our actual projects page.
looking for the latest trends, our favs, or new collections? check out the edits on our inspo, etc. page.