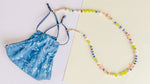 vacation ready mask chain
mask chains can be created just about any way you want, but a swivel clasp allows for tons of movement on either end. to see all of the mask chain tutorials we offer, check out our mask chains page here.
for this mask chain, we are stringing the beads on beadalon & finishing it off with crimps & clasps, just like you would do with a necklace strung on beadalon. except, for mask chains, each end of the "necklace" will have a clasp instead of one having a jump ring or other connector for the clasp. for an in-depth tutorial on crimping, click here.
this particular chain was inspired by cool, deep blues, candy apple greens, bright chunks of coral, & shiny freshwater pearls. we used several different sizes of hematite to accent these beads, & of course finished off the piece with crimps & shiny swivel clasps on either side. 
products used:
0.018 beadalon wire
gold filled crimp tubes
light coral branches
lime green dyed rade rounds
6mm freshwater pearl rounds
cutters
crimpers
related projects:
orchid + yogurt shortie necklace
more resources: 
all necklaces
related products:
shop all loose beads, charms, & pendants
shop all pearl strands