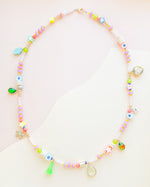 spring fling necklace + wristlet
with whimsy in every inch, these vibrant colors create a masterpiece that is yearning for a warm weather locale. both a wrist wrap AND a necklace, this layer works well with other necklaces, but certainly bold enough on it's own!  
this necklace started as a happy accident. most of the supplies were already together in a dish in our studio, largely complied of new products & what we were considering for our spring break vibes collection, which you can find here. once we started, we knew that some lucky charms would make the colors pop. we we got the charms ready by adding open jump rings to ensure that they would orient themselves the correct way.  then continued stringing these yummy colors.  once we had it close to the correct length, we tried it on to make sure that it was just right to be a wrap bracelet as well. new to crimping? see our crimping tutorial here.
materials used:
Teal Opal Hamsa
related projects:
orchid + yogurt shortie necklace
more resources: 
Our YouTube, All About Jump Rings
related products:
shop all loose beads, charms, & pendants