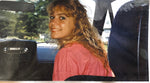 Kendall is Brynn's mom. Brynn works in our retail store, helping our guests find what they need, working on custom orders, & acting as our resident knotting expert. Brynn is an extremely creative individual, which she will tell you is thanks to her momma. Kendall is graceful, fashionable, real, & blonde, which Brynn insisted we use as an adjective for her mother. 
for Kendall, we assembled a bunch of earthy-toned strands, white & cream, bronze, brass, & a touch of silver. a healthy mix of stone, glass, & wood make appearance, as well as our hoop earrings, loose bone beads, & a touch of polymer. view Kendall's Collection here.
for each mom, we created a project inspired by their collection. Kendall's project is a stretchy bracelet stack, featuring cream wood rondelles, aqua jade, brushed gold, brass, & picture jasper. these bracelets show off how beautiful simple, natural materials can be when accented in an elevated way. view Kendall's bracelet stack here.
actual projects:
lori's earrings
joan's spike necklace
anne's color block necklace
sandi's multi-strand necklace
inspo, etc:
mother's day edit
related products:
essential jewelry designer's kit