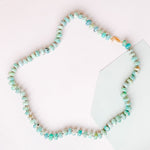 looking for supplies? scroll down!
knotting is a technique that is exactly what it sounds like - using the stringing material of your jewelry to create knots in between your beads. this can be done with leather, waxed linen, or any other cord material, but is most typically seen with silk knotting thread.
most knotted necklaces are entirely made up of knots except for the method of closure. however, you can of course use a knotted segment to add interest to a necklace or bracelet. 
on this page, you will find links to projects that utilize knotting with different materials. for more information about those specific projects, click the links associated with them. 
silk knotting
silk knotting is a traditional method of stringing & securing beads dating back to ancient egypt. silk knotting is standardly done with the help of a knotting tool, linked below. other types of knotting with larger stringing material do not require a knotting tool & can simply be done with your hands. however, whatever kind of knotting you choose to do is more about patience than talent. knotting is a very familiar task, that is not necessarily challenging at all, but requires a little persistence when you are learning to do it, especially with silk knotting. 
supplies used to silk knot:
available as a two pack in white, beige, & black, in number 1-14. sometimes we have more colors in store, if you are local to the Charlotte area & want to come check it out!
the numbers on the silk refer to the thickness of the cords, ranging from 0.35mm at the smallest size (1) to 1.02mm at the largest size (14). to determine the size of cord that will work for you, use a caliper to measure the hole in your bead.
our knotting tool is a must-have for silk knotters. while it is not needed for larger stringing material, without a knotting tool it is very difficult to get your knots small enough & close enough to the beads you are knotting. 
click here for a silk knotting tutorial
waxed linen knotting
supplies used to knot with waxed linen:
we sell waxed linen in 7 colors, & 2 sizes, in lengths of 15 or 20 feet, depending on the size of the waxed linen. 
featured project:
knotted waxed linen african glass bracelet (click for full tutorial)
leather knotting
supplies used to knot with leather:
we sell 1.5mm & 2mm round leather cord in several neutral colors. if you're local to the Charlotte area, we often have more to choose from in store! 
more resources:
quick knotting with leather cord video (no sound)
in-depth knotting with leather & pearls video
whatever you choose, we'd love to see what you make! feel free to tag us in your creation or send us a DM. happy making!
related projects:
multi-strand charm chain necklace
more resources:
quick wire-wrapping tutorial video (no sound)
quick turn any bead into a charm video (no sound)
chain-linking & wire-wrapping in-depth video