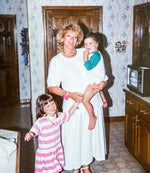 Cyndi is Anne & Christine's mom. Christine is the owner of Beads, Inc. & Anne is our manager. right now, Christine spends her time working on our online store (you are here!) while Anne focuses on helping customers downstairs (if we're being honest, Anne does a little bit of everything). if you aren't familiar with this duo, take note, because they are the best of the best. the sisters credit their endless creative motivations to their momma, who worked as an interior designer during their childhood. now, Cyndi is a golf-loving grandma who can be seen popping into the store from time to time. she is colorful, carefree, & vibrant, with a taste for the finer things.
for Cyndi, we pulled pinks, purples, a few strands with pops of green, lots of gold, chunky chains, & pave pendants. Cyndi's favorite colors are pink + purple, but in a sophisticated way, you know? her collection mainly features stone strands, with a hint of wood & crystal. view Cyndi's Collection here.
for each mom, we created a project inspired by their collection. Cyndi's project is a chunky, brushed gold chain necklace with 3 pendants hanging from a large front clasp. this necklace shows off Cyndi's carefree & vibrant attitude with a fancy flare. view Cyndi's necklace here.
MORE RESOURCES
start here:
mad skills:
crimping + working with beadalon
actual projects:
magnesite flower wire-wrapped necklace
inspo, etc:
(mother's day edit coming this friday!)