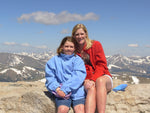 Lori is Camille's mom. you might not know Camille, but she is our main online store expert alongside Christine. she oversees pretty much everything on the site, from listings to the learn page, & takes a lot of crispy pics. Camille says Lori is not only the nicest, smartest person she knows, but is also incredibly patient, thoughtful, & beautiful. above all, Lori is a practical gal, but has gotten a little more adventurous in her personal style lately. 
for Lori, we assembled a group of blue-focused strands & findings, accompanied by both gold & silver. view Lori's Collection here.
for each mom, we created a project inspired by their collection. Lori's project is actually two projects - two pairs of earrings. denim wood rondelles + crystal hoops as well as pearl + crystal baby drop earrings, both accented with gold. view Lori's earrings here.
joan's spike necklace
anne's color block necklace
kendall's stretchy bracelet stack
sandi's multi-strand necklace
inspo, etc:
mother's day edit
related products:
essential jewelry designer's kit