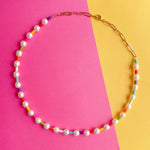 pearl + multicolor magnesite + mini paperclip chain necklace
 this necklace combines the elegance of a pearl necklace, a youthful pop of color, and the low-key style of a paperclip chain all in one. all we did to achieve this look was string one pearl, followed by one magnesite cylinder bead, until we had our desired length. after that, all that's left to do is to crimp off your beadalon wire. we recommend doing this through one of the chain links, just as you would normally do with your jump ring. finally, we cut apart the middle link in the chain to attach a clasp, which we have set to just attach onto a link of chain.
you could always make this a length that does not require a clasp, either by stringing more beads or using a longer chain segment. there's tons of possibilities!
for step-by-step on how to crimp, check out our mad skills page. 
products used:
4mm multicolor magnesite heishi cylinder strand
7mm shiny electroplated gold flat paperclip chain
12mm shiny gold lobster claw clasp
MORE RESOURCES
start here:
mad skills:
inspo, etc:
related products:
pearl + shell strands
stone strands
chains