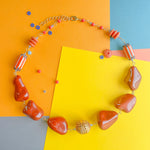 bringing the heat with our new golden hour collection (check it out here). includes daring reds, soft orange hues, and an array of other colors sure to bring the classic golden hour glow. for help with making necklaces, wire-wrapping, and a full material list, scroll below.
once mastered, wire-wrapping/chain-linking is a skill to make all kinds of jewelry. it is a step used to showcase any statement bead, dangle strands from earring wires, creating your own charms, or chain-linking a strand of beads. so versatile and so easy. for more info about this skill click here.
take inspiration from us, but also explore your own golden hour glow. it is a collection featuring a variety of colors that remind us of the best time of day.
products used: 
20mm-30mm Red Jasper Nugget Strand 
14mm Orange Chevron Vintage Glass Tube Beads - 3 Pack
4mm Periwinkle AB Faceted Chinese Crystal Rounds Strand
25mm Smooth Plated Copper Basket Rounds
15mm Persimmon Fruit Loops Sandcast African Glass Rondelle Strand
6mm Persian Red Chinese Crystal Rondelle Strand
12mm Shiny Gold Lobster Claw Clasp - 4 Pack
MORE RESOURCES
start here:
mad skills:
inspo, etc: