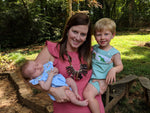 Anne is our manager here at Beads, Inc., & the only mom among us! Anne has two children, plus all of us at the store. Christine, the owner of Beads, is Anne's sister, & we honored their mom in Cyndi's Collection. Anne takes care of all of us, the store, & her family. She is giving, supportive, thoughtful, & really just wants to help. We asked Warren, Anne's son, to write her letter for the collection.
for Anne, we selected gorgeous stone, glass, & wood strands, plus a few crystal & polymer strands. warm, muted tones of pink, peach, yellow, along with icy blue + large silver hematite. Anne's collection is inviting, pretty, & practical, just like the momma herself. view Anne's Collection here.
for each mom, we created a project inspired by their collection. Anne made her project herself, featuring several different strands in a color-blocked pattern on beadalon with a classic lobster claw clasp. view Anne's color-blocked necklace here. 
MORE RESOURCES
start here:
mad skills:
crimping + working with beadalon
actual projects:
magnesite flower wire-wrapped necklace
inspo, etc:
(mother's day edit coming this friday!)