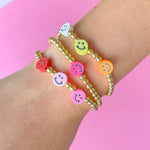 smiley stretchy hematite bracelet stack
we've been fond of polymer clay beads for pretty much forever, but heishi-style strands aren't the only way to work with this material! we offer several other styles of polymer beads, such as the smileys featured here, stars, fruits, & evil eye multicolor designs. 
pairing these slightly silly, colorful beads with sophisticated bright gold hematite rounds just seemed too good to pass up, so Ashton created this simple stack the same day we got our shipment of smileys. if you've made stretchy bracelets before, this is nothing new, but if you need some refreshing or a step-by-step tutorial, make sure to visit our mad skills page, where you can learn all about stretchy bracelets & stretch magic.
as always, you're more than welcome to use this stack as a source of inspiration, a starting place, or as a step-by-step guide. to achieve this exact stack, string the materials listed below on your stretch magic as shown in our mad skills tutorials. feel free to switch out the smileys for our star beads, or anything else. 
products used:
4mm shiny gold hematite rounds strand
10mm smiley face multicolor pack