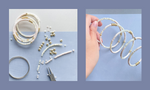 crema memory wire bracelet
sweet, and selectively made, these two memory wire bracelet wraps are a great place to start when you want a layered look. inspired by our ice cream social collection, these two stacks feature very different styles, but were created in exactly the same manner. both bracelets utilize memory wire, a type of stringing material thicker than beadalon, and more like craft wire, but very much set in place while maintaining a remarkable flexibility. this flexibility allows the bracelets to be put on or taken off with ease, but helps the pieces maintain their shape while being worn or stored. the best tip we can give you about memory wire is not to use your designer wire cutters, and instead use a pair of cutters or scissors that have a more blunt end.
for an in-depth look at how memory wire works, check out our step-by-step tutorial by clicking here, or the image below. for a supply list of products used to create these two bracelets, keep scrolling. 
products used:
4mm White Mother of Pearl Heishi Strand
6mm Brushed Gold Saucer Strand
10mm Multicolor Smiley Face Polymer Clay Strand
8mm Cotton Candy Polymer Clay Strand
8mm Domino Polymer Clay Strand
6mm Boysenberry Polymer Clay Strand
8mm Faceted Silver Pewter Nugget Bead Pack
11mm Smooth Brown Agate Rondelle Strand
10mm Mystic Aloe Faceted Chinese Crystal Rondelle Strand
8mm Sugar Opal Faceted Chinese Crystal Rondelle Strand
8mm Puddin' Polymer Clay Strand
12mm Iridescent Clear Faceted Chinese Crystal Round Strand
8mm Multicolor Glass Roller Bead Pack
to see the gelato bistro collection, click here, or the image below. 
collection will be live tomorrow!