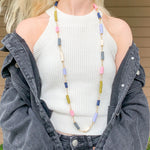 polymer stack + chain necklace
this necklace is a great place to start when it comes to adding more skills or more color to your jewelry practice. this piece utilizes wire-wrapping in between segments of chain & non-tarnish gold wire, creating an effect that makes the necklace look like one seamlessly strung piece. 
the exact colors we used are listed below, but this project could take on any number of unique looks with your own personal selection of colors, polymer sizes, & chain preferences. we made our necklace long enough to render a clasp unnecessary, but if you'd like to add a clasp, simply wire-wrap a jump ring & lobster claw on two 'end' segments of chain or polymer.
as always, you're more than welcome to use this stack as a source of inspiration, a starting place, or as a step-by-step guide. to achieve this exact stack, string the materials listed below on your beadalon as just as the necklaces show. for a similar look, mix up the patterns from our stack, or add your own personal touch with extra strands or even a pop of color!
products used:
8mm petal polymer clay discs strand
8mm dill pickle polymer clay discs strand
8mm gray sweatpants polymer clay discs strand
8mm in the buff polymer clay discs strand
8mm bubblegum polymer clay discs strand
8mm blue pantsuit polymer clay discs strand
6mm brushed brass heishi strand
MORE RESOURCES
start here:
mad skills:
inspo, etc:
related products:
the essential jewelry designer's tool kit