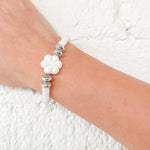 magnesite flower + polymer stretchy bracelet
this stretchy bracelet was inspired by our magnesite flower + mixed metals wire-wrapped necklace, which was inspired by our white hot collection. the bracelet features one of our flower magnesite beads, four silver western spacers, & a bunch of coconut confetti polymer! 
we tucked the knot in this bracelet by one of the spacer beads, which keeps it out of site a little more efficiently than the polymer!
video tutorial:
products used:
20mm white carved magnesite flower beads
10mm silver plated western saucer beads