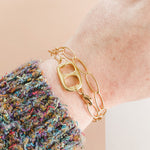 chain bracelets (or necklaces) take hardly any time to put together, but make a great shining statement or stacking piece. this necklace could be created sans soda tab, but it adds just enough "pow" to make this bracelet stand out.
to make this bracelet, we doubled our typical wrist length of 7-8" & then took away about an inch to account for the soda tab. 
once you have your desired length, all that's left to do is attach your clasp & soda tab! we used open jump rings to do this. 
for an in-depth tutorial on how to work with jump rings, click here.
we chose to stick with the same shiny gold finish in all the parts of this bracelet, but a mixed finish or even mixed metals combination could also be a good idea...
products used:
soda tab charm
18mm shiny gold rounded paperclip chain
8mm shiny gold jump ring
12mm shiny gold lobster claw clasp